How Small Business Owners Can Get Started With SEO
By: Paige Zaro Monday January 11, 2016 comments Tags: seo, small business
So you're finally starting to get serious about your business's online presence. You understand how important it is for your customers to easily find you through Google, on social media, and on review sites. But where do you get started?
Whether you choose to do your SEO yourself, or if you hire someone to work with you on it, it's important for you as the business owner to understand what the process is, what's involved, and what decisions you have to make.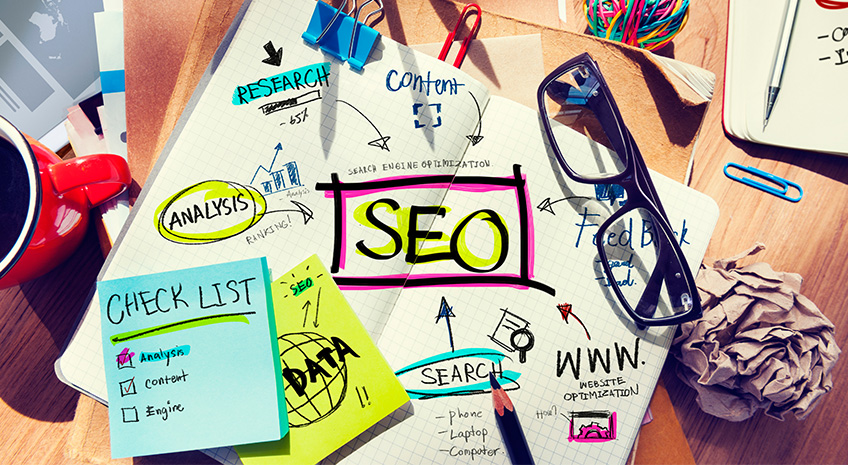 1. Check Your Expectations and Mindset
First, it's critical to understand what you can reasonably expect and work towards. Keep in mind that Google doesn't actually want you to be able to easily manipulate your ranking. They want you to earn it by creating the best possible experience for your customers.
But by focusing on the "right" things — that is, creating the best possible user experience to serve visitors to your site — you can influence your rankings without having to pay Google for ads.
If you attempt to manipulate Google, there's a really good chance they'll catch you. They've seen pretty much every strategy you can imagine, and they will dish out hefty penalties for people who aren't acting in the right spirit.
Again, what Google considers to be the "right spirit" is whatever is best for searchers. If you focus on making your site easy-to-use, useful, and interesting to your target audience, Google will take notice and reward you.
But results won't come in quickly, and you can't reasonably expect to rank on the top page for highly competitive keywords until you've been working at it for a long time. But you can still rank for keywords specific to your niche, which will get you better results in the long run.
2. Clean Up the Back End
Although your first priority should be your site visitors, you do have to do some work that's just for Google. This is all about understanding how Google goes about evaluating a site, and making it really easy for that to happen.
Make Sure Google Can Access Your Site
Google "looks" at your website by "crawling" and "rendering" the site, to understand what it's like for a visitor.
Crawling

: Specialized "web crawler" software follows links from page to page and site to site, to understand what content is available on your site and what keywords your content relates to

Rendering: Puts the information the crawler gathered into the context of how it looks visually on your website to a visitor
You can learn more about crawling and rendering here.
There are certain lines of code that can stop Google from crawling and rendering your pages. Make sure Googlebot (the main web crawler used by Google) isn't blocked on your site by following Google's instructions here.
Upload a Sitemap
Just like it's easier to understand complex material when you look at an outline first, it's much easier for Google to crawl your site if it can follow a sitemap. A sitemap simply shows Google everything that's on your site, in a certain format that works well for Googlebot.
You can easily create and upload a sitemap to your site using XML Sitemaps.
Coffee.org - Hand Crafted Coffee's and Teas
3. Make it Easy for Searchers to Find
It doesn't matter how great the content on your site is if your site can't be found on Google. It's amazing how many businesses are really difficult to find, even if you know their name.
Choose a Memorable Domain Name
The right domain name can help you out a lot. Ideally, you want one that's as close to your business name as possible. But what do you do if the domain you want isn't available? Check out this blog for some ideas.
Keep the Focus on Your Root Domain
If you want to add a blog to your website, there are two ways you can do it. You can either make a url for blog.yourdomain.com, or you can use yourdomain.com/blog. The first option uses a subdomain, and the second uses a subfolder.
Both options are valid, and you can visit this blog to better understand the pros and cons. But most sources recommend using the subfolder option. This keeps the focus on your main domain name, rather than splitting it up into many subdomains.
This is fairly self-explanatory. If you haven't made your own social media pages, you're missing out on an opportunity for free branding, exposure, and networking. You also miss out on the chance to gather reviews and build up a fanbase.
Make sure your username for these pages is as close as possible to your business name. This will make it easiest for people to find you, and easy for you to remember. Keep your username consistent across all social networks you decide to use.
5. Deliver What Visitors are Looking For
Ultimately, what matters most to Google is if you did a good job of answering the searcher's question or meeting their need.
Focus on Specific, Local Keywords
Make sure your content is associated with the right kinds of keywords. As a small business, you're unlikely to rank for general keywords about your industry. There's simply too much competition.
But you can hope to rank for keywords that are very specific to your niche. A great way to do this, if your business has a location-based aspect, is to use locally-specific keywords. It's much easier to rank "Accountants in X City" than just "Accountants."
6. Invest in Quality Long-Form Content
Finally, make sure the content you put out on your site actually delivers. That means:
It's a

unique

take on the information

The content is

well-written

It is

visually appealing

and easy to skim

You

fully address

the issue

You meet the

visitor's needs
Usually, a variety of content on your site is best. Some quick snippets, some in FAQ format, and some long-form articles that really go in depth. Whatever your visitor is looking for, you need to provide.
Ultimately, that's what Google cares about. As long as that stays your first priority as well, you and Google are good partners, and Google rewards its good partners with good rankings.
Don't be overwhelmed just because you're small. If you use that to your advantage and produce truly useful content, you can get ahead of larger players.
What SEO strategies have you used to grow your small business? Let me know in the comments!

Archives
Subscribe